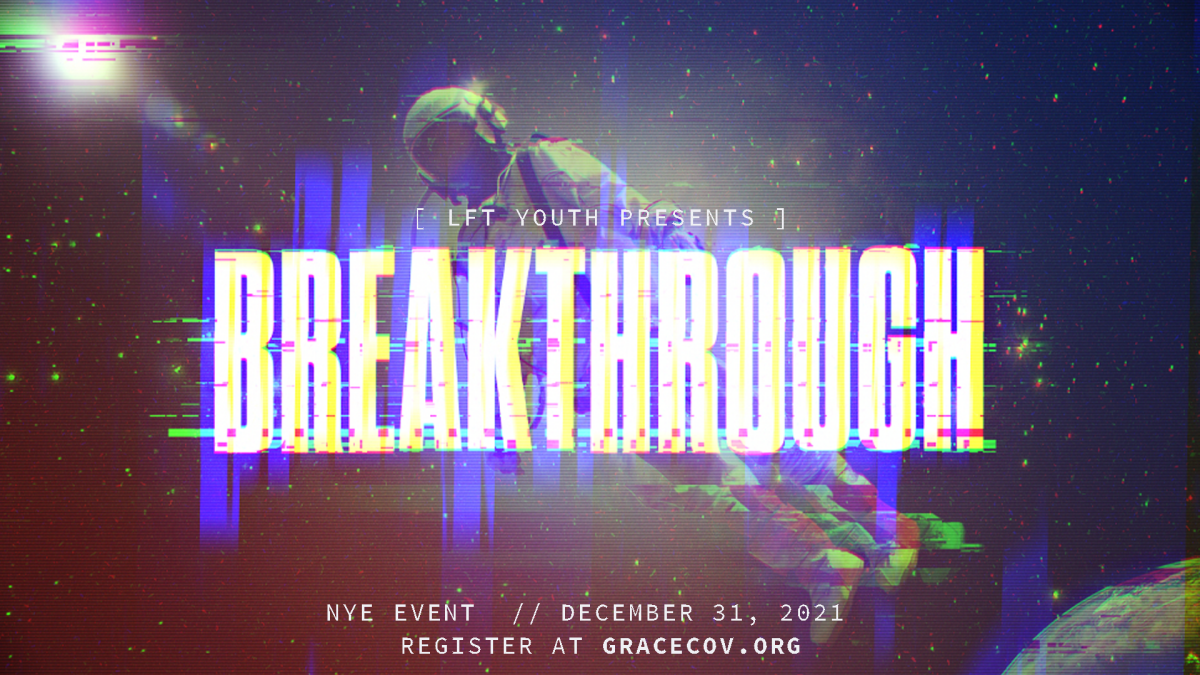 Friday, December 31, 2021, 7:30 PM - Saturday, January 01, 2022, 7:00 AM
LFT Youth's 2022 NYE Celebration! An all night New Year's Eve Party for all 6th-12th graders.
Register HERE on Eventbrite!
About this event
Calling all 6th - 12th graders! It's almost time for LFT Youth's 2022 NYE New Year's Eve celebration titled, "The Breakthrough".
Ring in the New year with friends, inflatables, games, an encouraging word, giveaways and our own private party at Dave & Buster's!
Early Registration ($40) ends Sunday, December 5th.
Regular Registration ($60) ends Sunday, December 19th
Late Registration ($75) ends Monday, December 27th.
Super Late Registration ($90) ends Wednesday, December 29th.
After this deadline, only a limited number of walk-in's will be able to register for and attend NYE at $90 per student.
Scholarships will be avaiable upon email request to until Wednesday, December 29th. These requests will be attended to in the order they are received.
If you are a parent/adult wanting to serve our youth at LFT's NYE event, we would love to have you! Please email to inquire about serving.
SCHEDULE:
7:30 - 8:30pm: Check in at Grace Covenant Church
8:30-10pm: Free Play (inflatables, games, food, fun, photo booth)
10:00pm: MAIN EVENT in MAIN AUDITORIUM: Keynote speaker & entertainment
12:00am: Ring in the NEW YEAR!
12:01am: Begin Boarding Buses to DAVE & BUSTERS. (7000 Arundel Mills Circle #D-1, Hanover, MD 21076)
6:00am: Load buses and Return to Grace Covenant Church. (Student will text parents to confirm pick-up)
7:00am: Parent Pickup at Grace Covenant Church
7:30am: LATEST PICK UP TIME.
FAQ.
1. Do the students need to bring extra money for games and/or food?
Food will be provided at Dave and Busters and each student will receive a Dave & Buster's play card with $20 to play ticketed games. This card can be used unlimited for non-ticketed games. If students would like to add personal money to their card once the given amount runs out, they can bring their own money to do so.
2. PICK-UP
Pick up will be at Grace Covenant Church promptly at 7:30am on January 1st. Please be on time to pick up your student(s).
3. Cell Phones
Students are more than welcome to bring a charger for their phones. We advise that they not leave their phone charging unattended. Students are responsible for their own belongings for the duration of the event.
4. Will there be gluten free options for my student(s)?
Yes! We will supply gluten free snacks at Grace Covenant, and gluten free entrees at Dave&Busters for students who need the option.
5. Check-in starts at 8:30PM @ GraceCovenant Church
Pre-Registered Students Check in will be in the Main lobby
Walk-in Students register @ Grace Covenant Church, KB Lobby.
6. Where can I drop off my newly donated Hat/Scarf/Glove set?
Please drop off your newly donated hat/scarf/glove set at the check in table upon arrival. We are asking our NYE attendees to donate a new hat, scarf, or glove set to help us meet the needs of a local middle school, whose students are in need of winter gear. We would love for you to participate with us in giving to our community as we ring in the new year!
Register HERE on Eventbrite!
More QUESTIONS? Please contact