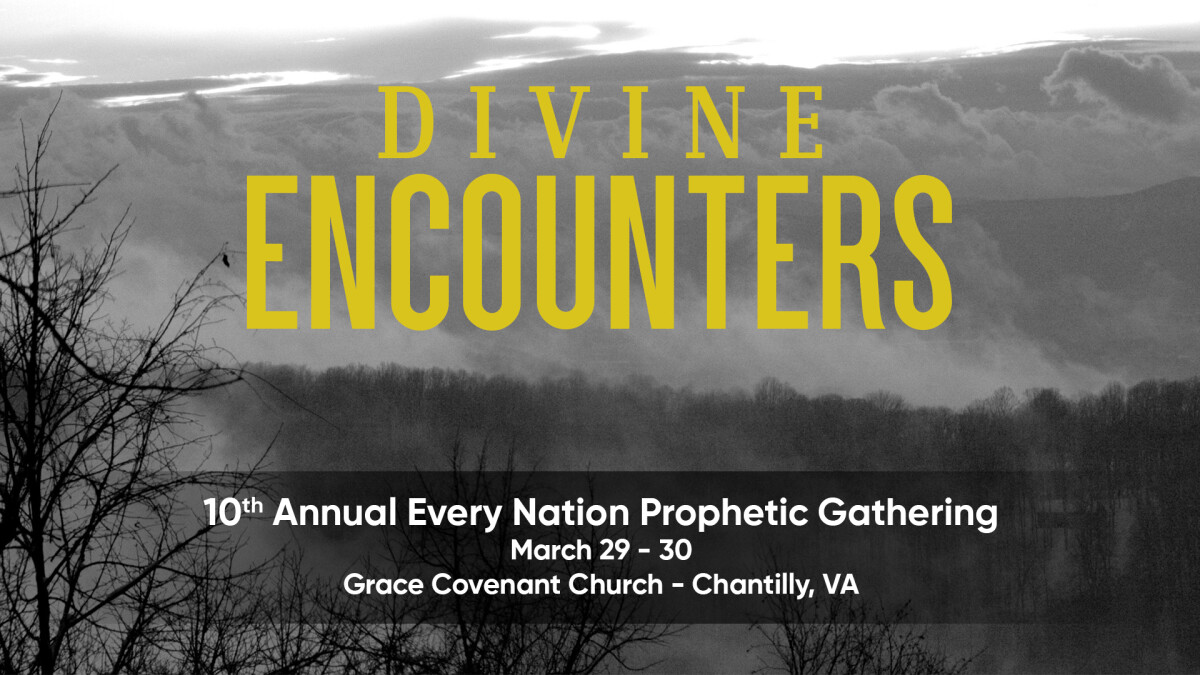 Friday, March 29, 2019, 9:00 AM - Saturday, March 30, 2019, 4:00 PM
A burning bush. God's audible voice. The Damascus road. Descending tongues of fire. Dreams and visions. The destiny of great men and women throughout history, and the faith engendered in them, most often had its genesis through Divine encounters. In such moments, when heaven meets earth, we find that God not only intersects but wonderfully interrupts lives and nations with a new or renewed sense of His person, purpose and power.
God by His Spirit is longing to encounter each of us anew this year. Are we in turn longing after Him? He is looking for a people who have learned to cultivate both space and place where He can abide and ignite destinies. Is that you?
On this, our 10th annual Every Nation Prophetic Gathering, we will explore the means of freshly encountering God and help equip you to both expect and experience His ongoing presence daily.
Join us in Chantilly, Virginia,
March 29th & 30th!
Register by March 10th and receive an early bird discount! The conference is FREE for high school and college students.
Childcare is available for children ages 2 years through 5th grade for the following sessions: Friday, Mar. 29 - daytime sessions; Saturday, Mar. 30 sessions. You must register in advance for childcare -- as part of your conference registration.
REGISTRATION COSTS
*Early Bird Registration (by March 10th)
Couples - $65.00
Individual - $40.00
International - $20.00
Students – FREE
*Regular Registration (March 11th – March 29th)
Couples – $75.00
Individual – $50.00
International – $25.00
Students – FREE
*Single day registration is available for $20 per person
For those needing lodging for the Prophetic Gathering, the following links are for hotels near GCC which are offering discounted rates for conference attendees:
AREA HOTELS:
*Holiday Inn - Chantilly Dulles
4335 Chantilly Shopping Center,
Chantilly, VA 20151
703-815-6060
4994 Westone Plaza
Chantilly, VA 20151
703-961-8160