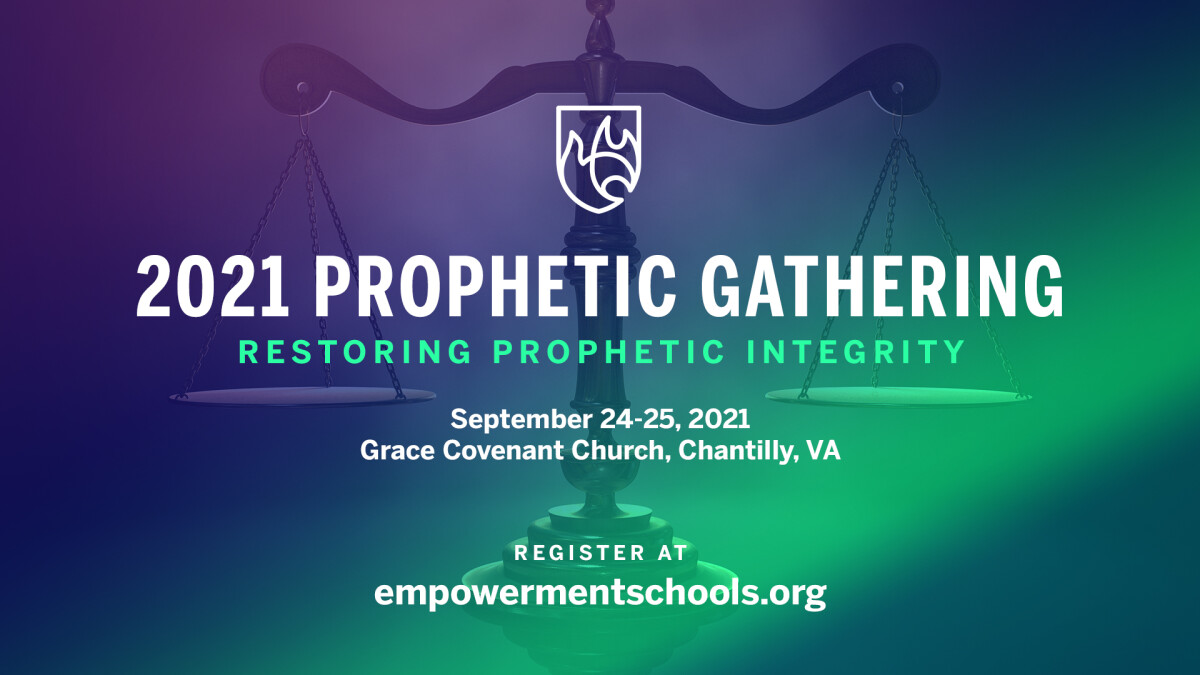 Friday, September 24, 2021, 9:00 AM - Saturday, September 25, 2021, 4:00 PM
Come and join together with believers from all over the world for the annual Every Nation Prophetic Gathering at Grace Covenant Church in Chantilly, VA, where you will have the opportunity to encounter God and explore His supernatural work in your life. During our moment together, along with powerful worship times, you will hear from proven prophetic men and women whose insights and experience will build your faith and give you greater understanding of the prophetic.
You will also have the chance to practice your prophetic gifting through practical instruction and activation sessions geared towards building your confidence in hearing and communicating the heart of God for others.
Come. Meet people. Get Inspired. Immerse yourself in the prophetic. And encounter God. You will never be the same.
This Year's Theme is:
Restoring Prophetic Integrity


Integrity. By definition, "honest, upright, whole and undivided". Integrity should be given as to rightly representing God's person, voice and intent. As He is truth, His word —written or prophetic — should always reflect that truth, both "whole and undivided". Yet we too often find both the expression and reputation of the prophetic in peril as it fails to reflect that integrity. The question then is how do we cooperate with the Spirit to ensure that the words being spoken as from Him are indeed in alignment with His character and intent? Our Prophetic Gathering this year could be the most important we have ever had. Join us in this critical hour.
Guest speakers will be:
Ps. Jim Laffoon -

International Director of the Schools of Empowerment
Ps. Jim Critcher -

North American Director of the Schools of Empowerment
R.T. Kendall - Christian writer, speaker, and teacher who pastored Westminster Chapel for 25 years. He is the author of more than 50 books.
On this, our 11th annual Every Nation Prophetic Gathering, we will explore the ever increasing need for prophetic integrity to be restored, and in that, help equip you to both expect and experience His ongoing presence daily.
_________________________
Important Information:
Limited Children's Ministry is Available as Follows:
Friday Daytime Sessions:
Available to children ages 2 to 11 years old (Registration Required).
Friday Evening Session: Children's Ministry is available first-come-first-served for Preschool children ages 6 mths. to 5 years old (Not included in registration).
There is no Elementary class for the Friday evening session. *ELEMENTARY (K- 5) CHILDREN WILL ATTEND SERVICE WITH THEIR FAMILY.
Saturday Daytime sessions:
Available to children ages 2 to 11 years old (Registration Required).
*Please note, there is a $15 fee to register all children per family/household, fee is not refundable after 9/15/2021.