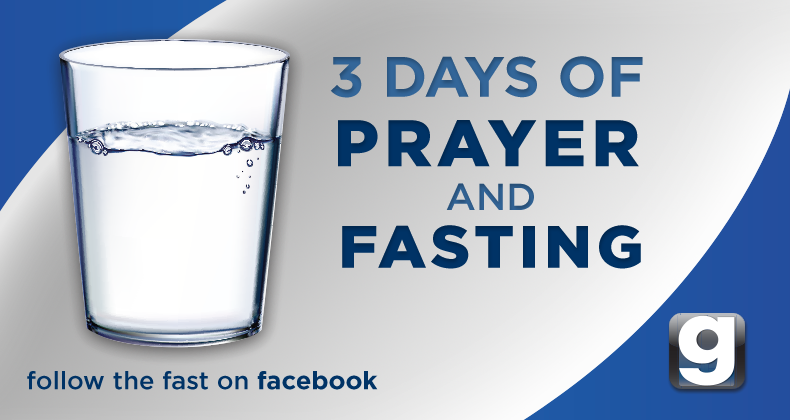 Wednesday, April 17, 2019, 12:00 AM - Friday, April 19, 2019, 7:15 PM
"When you were dead in your sins and in the uncircumcision of your sinful nature, God made you alive with Christ. He forgave us all our sins, having canceled the written code, with its regulations, that was against us and that stood opposed to us; he took it away, nailing it to the cross."
As we begin this time of prayer and fasting, let us consider first how Christ has forgiven ALL our sins. Not some, but all. The written code which previously condemned us has been taken away by being perfectly fulfilled by Jesus' sacrifice on the cross. It is only from this point of being made truly clean that anything and everything else of real value is added to our lives.
Ministry prayer focus: ENC campus ministry
Thursday: Fullness
"For in Christ all the fullness of the Deity lives in bodily form, and you have been given fullness in Christ, who is the head over every power and authority."
Once forgiven, we are now free to experience the fullness of Christ flowing both in and through our lives. This fullness is one of "great power for us who believe. That power is like the working of his mighty strength, which he exerted in Christ when he raised him from the dead and seated him at his right hand in the heavenly realms, far above all rule and authority, power and dominion, and every title that can be given, not only in the present age but also in the one to come. And God placed all things under his feet and appointed him to be head over everything for the church, which is his body, the fullness of him who fills everything in every way." (Ephesians 1:19–23, NIV84) That fullness is one of power but it is also the fullness of the person — the nature and character — of Christ Himself. To this prayer ask for "this love that surpasses knowledge—that you may be filled to the measure of all the fullness of God." (Ephesians 3:19, NIV84)
Ministry prayer focus: LFT youth ministry
Friday: Facing Forward
"Since, then, you have been raised with Christ, set your hearts on things above, where Christ is seated at the right hand of God. Set your minds on things above, not on earthly things. For you died, and your life is now hidden with Christ in God. When Christ, who is your life, appears, then you also will appear with him in glory." (Colossians 3:1–4, NIV84)
The cross not only gives us a way out (of sin and bondage), a way through (by the indwelling and empowering of the Spirit) but also orients us forward. Forward is not just tomorrow or even the day after that as it regards earthly things. We are exhorted to set both our hearts and minds on those things above and eternal. Much of what occupied the thought and passion of the early church was that of eternity and the resurrection of the physical body to rule and reign with Christ. That moment when He appears (again), we will be with Him in glory. As Paul wrote to the Corinthian church, "For our light and momentary troubles are achieving for us an eternal glory that far outweighs them all. So we fix our eyes not on what is seen, but on what is unseen. For what is seen is temporary, but that is unseen is eternal." (2 Corinthians 4:17–18, NIV84)
Ministry prayer focus: GCC congregations and church plants
PREPARING SPIRITUALLY:
Confess your sins to God. Ask the Holy Spirit to reveal areas of weakness. Forgive all who have offended you and ask forgiveness from those you may have offended (Mark 11:25; Luke 11:4; 17:3-4). Surrender your life fully to Jesus Christ and reject the worldly desires that try to hinder you (Romans 12:1-2).
DECIDING WHAT TO FAST:
The type of fasting you choose is up to you. You could go on a full fast in which you only drink liquids, or you may desire to fast like Daniel, who abstained from sweets and meats, and the only liquid he drank was water. Remember to replace that time with prayer and Bible study.
TYPE OF FAST:
Full Fast - Drink only liquids (you establish the number of days)
The Daniel Fast - Eat no meat, no sweets, and no bread. Drink water and juice. Eat fruit and vegetables.
3-Day Fast - This fast can be a full fast, a Daniel fast, or avoiding one type of food.
Partial Fast - A partial fast is from 6:00am to 3:00pm or from sunup to sundown; avoiding one type of food is better than one item of food.